Product Description
The Barn Find Package [EBOOK] – All you need to build your barn find diorama.
With this package you are ready to start realizing your barn find dream!
Finding your favorite car in an old barn is almost every classic car fanatic's dream.
Though it's not that probable that it is ever to going happen, unless… you build it yourself!
With this tutorial you have everything you need to start scratch building your Barn Find dream.
The "Barn Find Package" includes 3 GREAT TUTORIALS
Old Barn – Making a barn scale model from scratch [ebook]
A 3D step-by-step tutorial with plans in 12 scales, 130 pages & much more!
Plans in the 12 most common model car scales
3D step-by-step guide
How to make realistic weathering
How to make working hinges & door locks
How to make realistic corrugated metal sheet
How to work with scale plans
Access to the "Old Barn Customer Area"
Plans/blueprints in all most common modeling scales: 1/5, 1/6, 1/8, 1/10, 1/12, 1/16, 1/18, 1/25, 1/32, 1/43, 1/64, 1/87
Videos and high resolution pictures
 Gas Pump – Making a gas pump scale model from scratch [ebook]
A step-by-step tutorial including 140 pictures & 66 pages full of tips.
Based on a TOKHEIM 39, the #1 classic among the gas pumps!
How to build a gas pump model from scratch
How to apply many different scratch building techniques
How to make complex 3D custom parts with simple techniques
How to recycle everyday objects for scratch building parts
How to make realistic rust effects & weathering
How to build light into your model
How to use scale plans
Blueprints & graphics in the following scales: 1/5, 1/6, 1/8, 1/10, 1/12, 1/16, 1/18, 1/24
Underhaulin' – How to make junk model cars [ebook]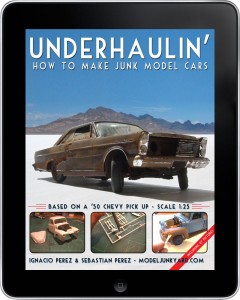 A step-by-step guide including 67 pictures & 58 pages.
Here are some of the things you will learn:
How to make rust holes and dents
How to make used and flat tires
How to make upholstery look old
How to make damaged seats
How to make broken windows
How to make custom model parts
How to make dirt and weathering effects on car paint
Building the barn find of your dreams
Every project has its own challenges. If you're not familiar with wooden structures, designing a realistic looking wooden structure can turn into a hobby itself. I guess you don't want to get into that hobby, but instead continue building your model cars. Building an old barn scale model should be an easy project. That's why this tutorial includes all blueprints and wood profile descriptions for you to concentrate in just building your old barn scale model, not designing it.
In order to make things even easier for you, we also include a shopping list of all profiles on 1/25 scale.
Like all our books, the Old Barn ebook also includes blueprints on many different scales (1/5, 1/6, 1/8, 1/10, 1/12, 1/16, 1/18, 1/25, 1/32, 1/43, 1/64, 1/87). You can build a barn for your 1/25 model cars, your HO-scale train diorama, a house for your dog or even a playhouse for your kids!
With the help of the Underhaulin' ebook you'll be able to turn the model kit of your favorite model car into an hyperrealistic barn.find. You'll learn how to make junk model cars using many weathering techniques and real rust, how to make damaged upholstery and broken windows, among other details.
Last but not least, the Gas Pump ebook is a great scratch building tutorial. After making one gas pump in scale, you'll be able to build many more items to decorate your diorama using the same techniques. This book includes the gas pump blueprints in the following scales: 1/5, 1/6, 1/8, 1/10, 1/12, 1/16, 1/18, 1/24
SAVE 20% NOW!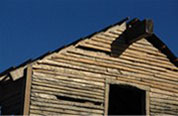 Check out more books from our collection to learn scratch building techniques, how to make barn finds, old wooden barns, garages, gas stations, gas pumps and anything else that makes the perfect model car diorama!
Do you want to buy the hardcopy version of this ebook package? Click here