Product Description
Gas Pump – Making a gas pump scale model from scratch – [EBOOK]
A gas pump scale model based on a TOKHEIM 39, the #1 classic among the gas pumps!
Scratch building can be fun if you know how to do it
It was not an easy task to choose a gas pump for our scale model project as there are so many great classic gas pumps out there. Finally we chose what we think is THE classic among the gas pumps: The Tokheim 39.
We think this is one of the most beautiful gas pumps from the 50's. At the same time it is a very decent and timeless design. It can decorate your diorama placed next to classic cars from all decades or as "stand alone" model by itself.
With this step by step tutorial including gas pump scale model blueprints you can start easily with scratch building.
Make a gas pump scale model from scratch. Learn how to apply many different scratch building techniques, make complex 3D custom parts with simple techniques, recycle everyday objects for scratch building parts, make realistic rust effects & weathering. Build light into your gas pump scale model. Learn how to use scale plans. The book includes on scale blueprints and on scale graphics in the following scales 1/5, 1/6, 1/8, 1/10, 1/12, 1/16, 1/18, 1/24.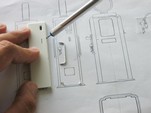 _
_
_
_
Check out more books from our collection to learn scratch building techniques, how to make barn finds, old wooden barns, garages, gas stations, gas pumps and anything else that makes the perfect model car diorama!
Do you want to buy the hardcopy version of this ebook? Click here